IFMA Credentials

Facility Management Professional
Build your career on a solid foundation.
The must-have credential for facility management professionals and industry suppliers.
Four courses teach the core topics of facility management.
Enhance your knowledge, gain recognition and earn a competitive advantage.

Sustainability Facility Professional
Establish sustainability FM knowledge and practices.
For all FM and like-minded professionals with an interest in sustainable practices.
Develop and gain recognition for your expertise in sustainable FM practices while impacting your organization's triple bottom line.

Certified Facility Manager
The Certified Facility Manager (CFM) is the pinnacle achievement in facility management certification. Widely regarded as the industry standard in facility management certification.

Get your questions answered! presentation

Manage Your Credentials
Credential Application & Maintenance Program (CAMP)
IFMA's Credentials Application/Maintenance Program (CAMP) allows you to apply for, complete and maintain your credentials and related information.
After you log in, you'll be able to:
Submit and review IFMA credential applications
Review your credential status
Maintain and submit your CFM Maintenance Points
Review your credential and exam history
Download credential logos
Print your transcript of CEUs earned through IFMA
Make credential payments, review payment history and print receipts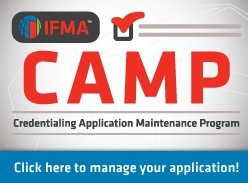 Note: The chapter will reimburse the exam fee to any chapter member in good standing that successfully passes!
Earn recognition for your expertise.
For experienced FM professionals meeting education and experience requirements.
The most respected global credential in facility management. Earn distinction, demonstrate your expertise and increase your earning potential.
Prepare with the new IFMA Facility Management Learning System, the preferred study resource
Click the link below to learn more!
Ready to take YOUR career to the next level?
Check out this article about how having Credentials can help your career! Credentials
---
LOGIN INSTRUCTIONS FOR CAMP
If you have never logged into CAMP, ifma.org or IFMA's online learning center, you will need to register. Click on the CAMP button and choose, "Don't have an account?". Complete the registration. Login Instructions (PDF)
Existing CAMP Users:
Click on the CAMP button
Use your email on file with IFMA as your Username
Enter your password or Choose "Forgot Password" and reset your password.
Click Login
NOTE: Login will return you to the Manage My Credentials Page, but you are logged in. You can verify this by looking for Log Out and Welcome, "your name" in the upper right corner of the window.
Click on the CAMP button again to move into the CAMP platform.
NEED ADDITIONAL HELP?
ISSUE: You have tried to login in and you receive the following message:
The email address you entered is not in our system. Please use a valid user email or create an account by clicking the Register link below.
CAUSE: You have not registered before with IFMA or you are not using the correct email address as your username.
SOLUTION: Choose "Don't have an account?" to register if you are new to IFMA and CAMP or call a Member Services representative at +1 713-623-4362 who can help you with your username.
ISSUE: You have logged into CAMP but you do not see your credential information:
CAUSE: If you use your social media account or a new email address to login, a new record will be created that will not contain your credential information.
SOLUTION: Log in to CAMP using the email address on file with IFMA.
Have any more questions? CAMP User's Guide
If you have any questions regarding this CFM maintenance, renewal or any aspect of the credentialing process, contact IFMA at 1-713-623-4362 or email: credentials@ifma.org.

IFMA International's Foundation also provides scholarships. For more information on research, education and scholarships they offer: IFMA Foundation
---